Welcome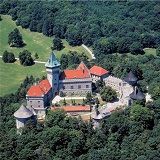 On behalf of the local organising committee it is our great pleasure to invite you to the Third Meeting of the EASD Study Group on Genetics of Diabetes (EASD-SGGD) which is going to be held from September 30th - October 3rd, 2011 at the Smolenice Castle, Smolenice Village, Slovakia. This historic castle is now a conference centre of the Slovak Academy of Sciences (SAS). The medieval Castle, located at the foot of Small Carpathian Mountains, provides an excellent venue for scientific gatherings together with a number of leisure activities. The meeting will be co-organised by the Institute of Experimental Endocrinology SAS in close cooperation with The Slovak Diabetes Association (SDA). The aforementioned societies will help to foster interactions between those working on basic or clinical genetic aspects of diabetes.
We hope that the panel of leading diabetes genetics experts will ensure a scientific program of high quality, which will include keynote lectures, invited talks and oral presentations from junior fellows and poster discussions on topics including clinical and basic aspects of the genetics of diabetes and related hereditary disorders.
Welcome to the Smolenice Castle in September 2011!
Iwar Klimeš
3rd ESGGD Congress President
Chair, Local Organizing Committee

Antonio Luís Cuesta Muñoz
President, EASD SGGD

Anna Gloyn
Scientific Secretary, EASD-SGGD
Chair Programme Committee

Emil Martinka
Chair, Slovak Diabetes Association